Many of Afghanistan's major rivers are fed by mountain streams. The Amu Darya on the northern frontier has a number of significant tributaries that rise in the eastern Hindu Kush. It is the only navigable river in Afghanistan, though ferry boats can cross the deeper areas of other rivers. The Harirud River rises in central Afghanistan and flows to the west and northwest to form part of the border with Iran.
The long Helmand River rises in the central Hindu Kush, crosses the southwest of the country, and ends in Iran. It is used extensively for irrigation and agriculture, although in recent years its water has experienced a progressive build-up of mineral salts, which has decreased its usefulness. Most of the rivers end in inland seas, swamps, or salt flats; the Kabul River is an exception. It flows east into Pakistan to join the Indus River, which empties into the Indian Ocean.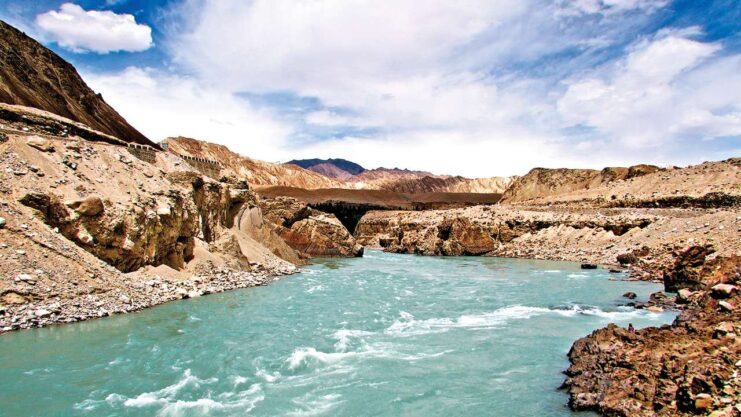 Afghanistan's lakes are small in size and number, but include Lake Zarkol in the Vakhan Corridor along the Tajikistan border, Shiveh in Badakhshan, and the saline Lake Istadeh-ye Moqor, located south of Ghazni. The country also has a few salt marshes at the limits of the Helmand drainage on the western border with Iran.
The most important dams and reservoirs in Afghanistan are the Kajaki Reservoir on the Helmand, the Arghandab Dam on a tributary of the Helmand, the Sardeh Dam on the Ghazni River, and the Kelagay Dam on the Darya-ye-Qondoz tributary of the Amu Darya.
Prior to the civil war, less than 10 percent of the country's hydroelectric potential had been developed. After the war began, hydroelectric production dropped off almost completely as turbines were destroyed, floodgates blown open, and transmission lines brought down. By the mid-1990s private diesel-fired generators were about all that remained of 75 years of electric development.