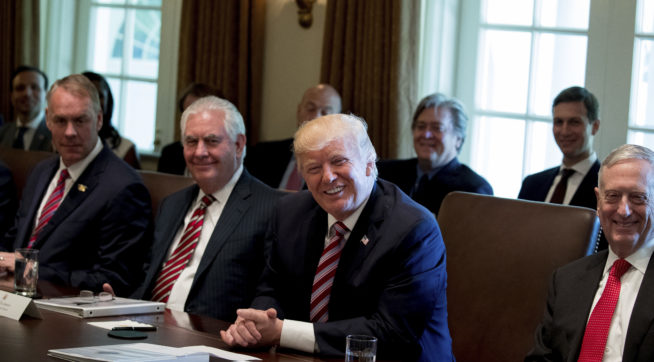 President Donald Trump suggested firing the commander of U.S. forces in Afghanistan during a meeting last month with Secretary of Defense James Mattis and Chairman of the Joint Chiefs of Staff Gen. Joseph Dunford, NBC News
http://www.nbcnews.com/news/us-news/trump-says-u-s-losing-afghan-war-tense-meeting-generals-n789006" rel="nofollow - reported
late Wednesday.
During a meeting on July 19, Trump repeatedly suggested that Mattis and Dunford replace top U.S. commander in Afghanistan Gen. John Nicholson, NBC News http://www.nbcnews.com/news/us-news/trump-says-u-s-losing-afghan-war-tense-meeting-generals-n789006" rel="nofollow - reported , citing unnamed senior administration officials.
Mattis pushed back, defending Nicholson, an unnamed official told NBC News.
Vice President Mike Pence, Secretary of State Rex Tillerson, Chief White House strategist Steve Bannon, Trump's son-in-law and senior adviser Jared Kushner, national security adviser H.R. McMaster and then chief-of-staff Reince Priebus also attended the meeting, per the report.
Trump also complained about the conflict's lack of progress and NATO allies, and criticized advisers in the room including Mattis, according to NBC News.
"We aren't winning," Trump complained, as quoted in the report. "We are losing."
According to NBC News, Trump has not met Nicholson.
The White House declined to comment to NBC News. National Security Council spokesman Michael Anton told NBC News that "no decision has been made" about Trump's strategy in the region.
http://talkingpointsmemo.com/livewire/nbc-news-reports-trump-floated-firing-top-us-commander-afghanistan" rel="nofollow - http://talkingpointsmemo.com/livewire/nbc-news-reports-trump-floated-firing-top-us-commander-afghanistan